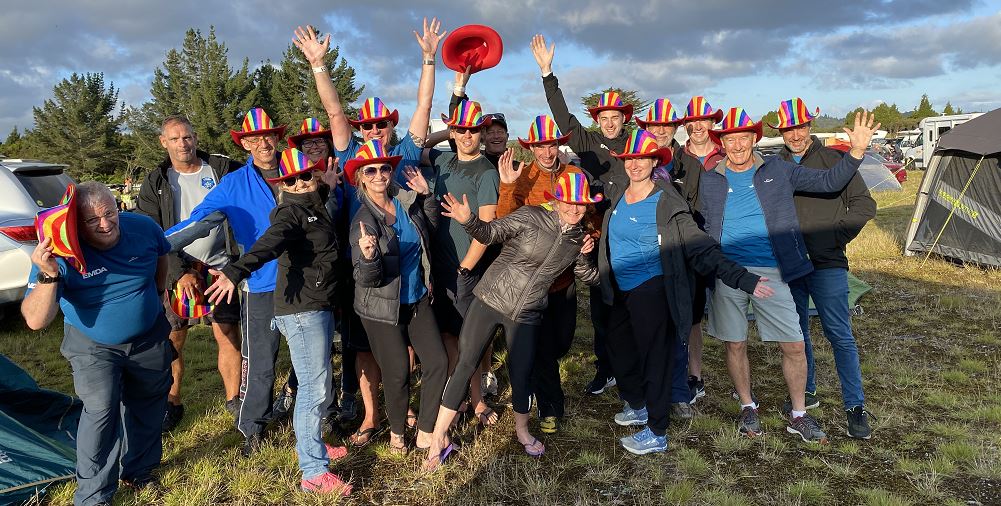 EMDA posts a strong performance in 2020.


EMDA's Chairman Keith Jessop looks back on the 2020 Kathmandu Coast to Coast. Taking place on South Island from 7 - 8 February the epic race saw EMDA management, staff, clients and family pitching in to carry EMDA's team spirit across the country - just weeks before crowded events of this nature were frozen in time.
"When I had completed the Coast to Coast for the fourth time this year, and was contemplating what I would write about our team's experience after the dust had settled, never in my wildest dreams did I imagine the situation in which we now find ourselves," says Jessop.
"Neither did I fully appreciate that everything we had experienced by competing in the C to C over the last few years would prepare us extremely well for making the adjustments in our business, and in our personal lives that we've all since had to make due to Covid-19. EMDA's participation in the
C to C involves hard work - planning, preparation, discipline, teamwork and, most of all, the ability to adjust to changing circumstances."
Adjustment was certainly required, remembers Jessop, when in the pre-race briefing the event director suddenly announced that the course for the mountain leg of the race had been changed and that competitors would now be running up the challenging road through Otira Gorge.

"My heart sank! I never train on the road and, for a fleeting moment, thought that I would pull out. However the EMDA crew quickly rallied round and we were all excited to tackle this new adventure in our two teams of three along with two individual competitors, including myself."

Old hands and new muscle
Jessop turns to the collective dedication behind EMDA's participation:

"Roll back a few months earlier and we had been scrambling to put one team together, let alone two - various prospective kayakers and runners had had to pull out because of injury or family circumstances. Yet we drew on one of EMDA's core values - commitment - and pulled together a great group of racers and dedicated support crew for the 2020 race."

"This was actually the fourth year we had participated as a company and every year we build further on our culture. The teams and participants may change from year to year but the spirit and camaraderie doesn't."
"During training and preparation and during the actual race, the "old-hands" are there to support and advise the newcomers, ensuring that our traditions are upheld. In previous years we had engaged outside resources such as coaches to help with our preparations. This year, we took on all the responsibilities without any outside help."
For Jessop, the intensive culture-building aspect of the C to C has always had close parallels with the team dynamics in EMDA's everyday business environment.

"At the fundamental level, physical and mental well-being are essential for both work and sport. To participate as a C to C competitor, you need to train and get fit, and you need mental toughness to commit to the task and push through adversity. The C to C is a team event, even though the training is down to the individual. We have to learn to get along and enjoy the company we keep. We must show respect for each other. We need to have trust in our support crew to cook, move the equipment between locations, pack and unpack, etc."
When a race "result" is measured more by the bonds strengthened
"To coordinate two teams, two individuals and all the support crew is a massive logistical challenge that requires strong leadership, organisational skills, planning and execution. We work as one team and are considerate of each other's needs. We are always proud to participate in the post-event celebrations even if we have not achieved a 'podium finish'.
If you're in a team you really want to make a good contribution to the team and most of all not let your team mates down; that's what really counts. Achievement of a race "result" for EMDA is measured less by medals and more by how much we have strengthened bonds amongst the wider team: staff, friends, family. Back in the world of SaaS, we live by the same values. It's what makes EMDA such a close-knit company."
For Jessop, what was the toughest moment of this year's race - and how did he push through it?
"This year, without doubt, it was the final bike ride. I was pretty buoyant transitioning from the kayak to the bike, after a good paddle down the river. There was light drizzle at the transition but I put on a dry top and some gloves and set off happy to be on the final leg.
My pace was good and, for the first 10 km, I was thoroughly enjoying it. But then the cold wind and rain from the south picked up and I really started to feel it. After another 5 km I could no longer register my hands; they were so cold that I couldn't pull my drink bottle out or pull food from my pocket … I didn't even know if my hands were properly on the handle bars. The only way I was able to push through that part was because my legs were working okay and because Steve and I were riding together, motivating each other."
Going coast to coast for those whose challenge is day to day
This year's C to C had one key difference over previous years, says Jessop, because EMDA had the added motivation of raising both funds and awareness for the Mental Health Foundation of New Zealand.
"We all felt that this was a great banner to rally behind, because mental health challenges affect one in five Kiwis every year. Obviously, given the difficult times the world is going through now, with Covid-19, the resources and support of an organisation like the MHF are more essential than ever."
"Fundraising for the MHF was EMDA's way of acknowledging and publicising the value of an organisation whose objective is to give us all support and guidance when we need it most. In our personal and business environments - in the "race of life" - we all need to find the strength to pull through adversity. Sometimes we also need to call on others to provide us with the mental support to pull through whether that's during an adventure place, at work or within the community."
EMDA raised nearly $3 000 in support of the MHF before, during and after the C to C and is still accepting donations on its official fundraiser page.
Ultimately, Jessop achieved a personal best time ever in the C to C, and placed 4th in the Vintage category of the race, at the age of 67. What can we expect when he – and no doubt, a sizeable contingent from EMDA – approaches the starting line for 2021's race?
"Every year my personal goal has been to finish and enjoy it; but also to try and be faster than the previous year's time. I have achieved that, successively. I hope that I can be an inspiration to New Zealanders of all ages, to undertake a continual programme of self-improvement and to seek out that sense of accomplishing something that pushes you both physically and mentally."
"What I'm able to achieve during the event is always directly dependent on the effort I put into training throughout the year preceding, and I think there's a message in that, too; there is no overnight success, but real gains come from being committed for the long haul."
In the 2020 Kathmandu Coast to Coast, EMDA's individual racers were Keith Jessop and Steve Green. Team one was comprised of Cam Greening, Aliesha Pile and Mark Erikson. Team two was Tim Carpenter, Daniel Jessop and Chris Stagg.